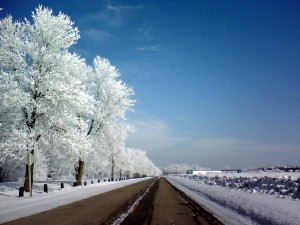 It has been widely reported this week that adverse weather conditions are affecting many peoples travel plans across the UK, meaning that if you are planning on driving during the Christmas festivities you need to be prepared. Here are some handy tips and hints to help you reach your destination safely and on time this Christmas!
Watch the Weather
In the past month we Brits have experienced snow, rain, fog and frost across the country, meaning that if you want to know what to expect the most important thing is to keep up to date with weather reports. At the moment many roads are closed due to flooding, meaning that it is a good idea to plan several routes before you head off should you find that the road you want to use is closed. Also, don't forget that it's not just roads that are affected by bad weather; many campsites have also succumbed to flooding, so before you travel cross country for Christmas make sure your destination is still there!
Get all your Contacts Ready
Having a fully charged mobile phone with you when you are travelling is essential, especially if people are expecting you at a certain time for Christmas dinner! Make sure you also take your phone charger with you so if your phone dies along the journey you won't become impossible to get hold of. Also, make sure that you have all the necessary contacts saved on your phone, including several numbers for those that you are planning to meet, the number of your motorhome insurance provider should your encounter problems, and if you have separate breakdown cover make sure you have their number too.
Pack Sensibly
With the road conditions being so perilous at the moment, the last thing you need is for things to be packed badly so that they could potentially fall out and break – or even worse distract you whilst you are on the road. Make sure everything in your motorhome is packed away safely and securely. Just make sure you leave enough room for all your presents!
Driving in your motorhome should be a fun and festive experience, and as long as you plan ahead and make sure you and your property are safe then we are sure you will have a fantastic day. Merry Christmas!