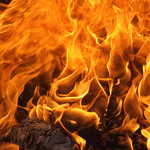 A motorhome caught fire Saturday morning in the Sunland Motorhome RV Storage off Woodcock Road. Clallam County Fire District 3 received a call at 9:22 a.m. Saturday, Dec. 1, and reported at 9:31 a.m. to the fully-consumed, unoccupied motorhome.
The fire spread to fully consume an adjacent travel trailer and singe the side of another motorhome. The first motorhome and travel trailer were destroyed, fire officials said.
No one was injured in the fire; one male and one female living in the first motorhome weren't home at the time of the fire. Let's hope they have the destruction covered by a motorhome insurance policy.
The cause of the fire is still undergoing investigation.