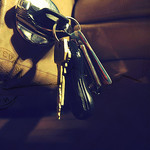 POLICE are hunting a cheeky thief who snatched a delivery van – while the driver was still inside. The white van man was removing a tyre from the rear compartment of the vehicle when he felt it begin to move.
The incident happened on Eastgate, Lund, at around 2.30pm on Thursday December 6. A police spokeswoman said: "A driver was delivering to numerous addresses in Lund village. Any damage caused by this robbery will have to be covered by a good van insurance policy.
"He parked his van, switched his engine off, and left the key in ignition.
"He then got out of the van and went to the back van door. He climbed into van and picked up a tyre which he was his next delivery.
"While he had the tyre in his hand, he felt the van move and heard the engine start up.
"He slipped out of the back of the van, and ran to front of his van.
"There was a man sitting in the driver's seat. He had locked the doors. The male managed to get some traction on the icy road and sped off.
The spokeswoman added: "The delivery driver also saw a grey Cherokee Jeep making off at speed. He had seen this vehicle earlier in the village and believes it is connected to the theft of his van."
The vehicle stolen was a white ford transit registration YT12ZKZ.