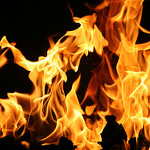 A man fled a burning caravan after a blaze broke out near a gas canister on Monday night.
Fire-fighters were immediately called to the caravan inferno on the A063 Wimpole Road, near Barton, at 9.15pm 10th December; with one person reportedly inside the mobile home.
Four fire engines were sent to the scene, but on arrival luckily the man had managed to escape the caravan without suffering any injuries. Hopefully the owner has a valid caravan insurance policy that can cover the damage to his vehicle.
Fortunately, by 9.17pm they had cooled the gas canister and had the raging fire under control.