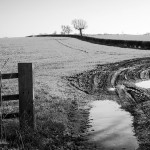 We all know the feeling after any kind of holiday where there comes a point when you just want to get home. Well this is no truer than those who are on a motorhome holiday in the UK (especially this year after the rain!) Imagine you have just packed up your pitch, loaded everything up, set off of the inevitably rainy journey home and something slips, the motorhome stalls, is then over revved and you and your vehicle are well and truly stuck in the mud. For a quick getaway try these tips.
The only way you are going to get out of the much is forwards or backwards. Try slowly moving the motorhome by using the forward and reverse gears. This will hopefully loosen some of the mud that has built up around the tyres and help you pull away easily. You have to be careful using these methods though; once your wheels are free you will move quickly so pay attention, especially when you are in reverse.
If this doesn't work you could try putting together make shift path, find whatever you can that will help provide a solid service, branches, rocks etc. If you do need to do this, make sure the handbrake securely up, you may end up with a run over foot if not!
On the TV you always see people trying to push the vehicle out, well this is not the answer when it comes to freeing a motorhome. They are too big and the majority of the time you will end up injuring yourself rather than moving your vehicle. If you have tried the above techniques and still to no avail, call a break down service. If you have adequate motorhome insurance you should be able to cover this cost.
At some point most people have been in this situation. It is obviously frustrating, but remain calm and sensible so not to hurt yourself in the process of trying to fix the situation. If you can't solve it yourself, call for help and someone will tow you out.