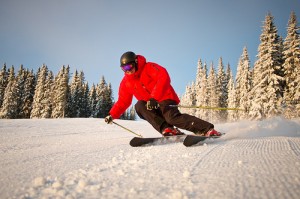 When skiers or snowboarders mention doing a season on the slopes you'll expect them to be working out there and spending all their hard earned cash on lift tickets. However, this is not the case for the Cambridges family from Birkhill, north of Dundee, since ski-Scotland has launched the passes.
Michael, Moira and their six-year-old daughter Anna Cambridge have bought ski passes every year and every winter, and they get at least 40 days of skiing. The passes cost £430 and which works out at just over a tenner a day for Michael and Moira and £235 for Anna which is around a fiver a day.
The Cambridges don't stay in a chalet or hotel, they have their motorhome. The family can travel to wherever the best powder is and seek the best weather conditions.
Michael says, "We've had motorhomes for about ten years now,
"The one we've got at the moment, an Auto-Roller 707, is fairly comfortable – it sleeps seven so it's not quite your typical ski bum VW. We've been there though –we've had a converted van in years gone by. We've gone from a tiny little minivan when we were in our twenties to a full camper van to a medium-sized motorhome to a couple of fairly big motorhomes."
Their snowboard and ski gears are at the ready and packed in their motorhome so when they check the snow reports they can head to the best slopes.
Michael says that there are other people who have the same lifestyle and camp out in car parks. He says some save even more money by pitching tents and travelling to the resorts by walking or taking public transport – this would definitely be hard for most people sleeping in the cold and not having hot water. We're not sure if the saving on fuel, motorhome insurance or accommodation would be significant enough for us to do this!
Michael explains, "We've spent a couple of New Years up at CairnGorm because the craic up there is great,
"But equally we've spent a couple up at Glenshee and at the bells we certainly weren't the only ones up on the hill at midnight – a lot of people get the bottles out and get the headlights out and go for a slide. It's infectious – if you do it once, you want to do it forever."