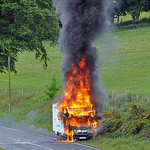 Police are calling for help in uncovering just why a camper van based in the Waddon district of Croydon ended up burnt to a cinder earlier this week. Emergency services were called to the scene of the blaze in the early hours of Monday (November 26th).
The fire is believed to have taken hold of the vehicle, which was parked on the street leading to Purley Way, at around 2.30am that day. And while firefighters were quick to arrive on the scene, they were ultimately unable to rescue the camper van which was left completely gutted by the flames. Let's hope that the owner has this covered with campervan insurance! Speaking to the news provider, one neighbour recounted his version of the unfolding events:
"I woke up in the middle of the night to a huge bang and then saw police and firefighters all over the place."
This is the latest in a series of recent fires to blight caravan owners; earlier this month a caravanner saw his tourer destroyed by a stray firework while another camper was set alight in Burnley last month.