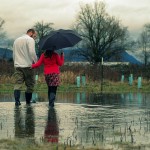 Whilst the biggest concern for most of us during the winter month is higher heating bills for some families the worry may be over losing their property completely.
The British Property Federation have reacted with great disappointment following on from the Government's rejection of proposals for long term flood insurance, having warned back in March that homeowners seeking flood insurance would face uncertainty and excessively expensive insurance premiums.
Reportedly up to 200,000 households in high-risk areas are facing the prospect of struggling to acquire affordable home and landlord insurance when the current Government agreement comes to an end in July 2013 with no sign of a suitable alternative.
With many people up and down the country having seen their homes damaged or destroyed by torrential rainfall in recent weeks the event has brought the issue of flood cover to the top of the agenda.
The Association of British Insurers (ABI) had urged the Government to administer a temporary overdraft facility, which would only come into force while the scheme built up cash reserves, with any money borrowed repaid by the industry the following year.
But with discussions with the insurance industry having reached an impasse, The BPF have issued a statement suggesting that if the Government don't commit to the scheme, any property which doesn't possess insurance is essentially worthless.
Chief executive of the British Property Federation, Liz Peace, said: "As the sad current events highlight, wide scale flooding has significant implications for property owners.
"The Government needs to act quickly on its word to provide greater assurances over flood protection for developers to ensure that homes and regeneration sites are insurable and protected.
"We believe the ABI's proposal could have provided the desperately needed long term solution, instead the clock is ticking before the Statement of Principles expires next year.
Bill Gloyn, a partner at insurance brokers Jardine Lloyd Thompson and Chair of the British Property Federation's Insurance Committee, added:
"Without insurance there is no mortgage. Without mortgages, there is no property market."
Are you a homeowner in a high risk area? Are you concerned by the Government's lack of support?