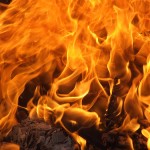 A noontime fire destroyed two motorhomes last Wednesday and damaged two others at Sam's Good RV Park on Northeast Highway 99 in Hazel Dell. Lets hope they were covered by motorhome insurance.
Amanda Nelson, 22, said the fire started in the passenger's side of her mother's Fleetwood motorhome at 11:56 a.m. When Ms Nelson smelled smoke, she went to tell the neighbours, and then the RV went up in flames.
"It didn't take five minutes," Ms Nelson said.
Craig Wagenknecht, 44, tried to smother the fire with blankets and water while Derek Reed, 17, grabbed a hose and kept a propane tank in front of the Fleetwood wet before fire-fighters arrived.
"I didn't want it to blow up," Reed said.
Neighbours brought fire extinguishers and hoses to help put out the fire, but pretty soon the fire spread to the Shasta motorhome next to it.
When Fire District 6 and the Vancouver Fire Department arrived to 8510 N.E. Highway 99, both trailers were engulfed in flames. About 25 fire-fighters worked to extinguish the fire, protect the propane tanks and keep the fire from spreading to other RV's, said Chief Jerry Green with Fire District.
"When the fire-fighters got here, I walked away. I couldn't watch it," Reed said.
The fire was put out in five minutes, Green said. Both RVs were destroyed.
JJ Reed, 40, recently bought the Shasta RV for his family.
"Everything was nice in that thing, too," he said. He was working on remodelling the inside.
Tracey Green, 50, owner of the Fleetwood RV, was treated at Legacy Salmon Creek Medical Centre and later released. She had lived in the trailer park about four years and moved into the RV about a month ago.
During the fire, a window shattered in the trailer next to the Fleetwood and the trailer next to the Shasta was warped from heat damage. The driver's side of a Ford Explorer parked in front of the Shasta motorhome was damaged by heat.
Fire Marshal Ken Hill is investigating the cause of the fire.
The Red Cross was on scene, assisting both families. Green said three adults and one child were displaced by the fire.
A section of southbound Highway 99 in front of the entrance to the RV Park was blocked while crews worked on the scene. Residents say about 70 families live in Sam's Good RV Park near Wal-Mart.