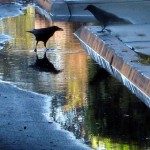 As everyone is aware, there has been a huge amount of rain which has caused 800 homes to be flooded which has caused thousands in damage. This can be a huge set back for landlords.
One of the only comforts in these situations is knowing that you are covered by your landlord insurance but it is better to be protected before it gets as far as needing to make a claim.
Make sure you are aware of what the weather warnings mean. Knowing when to be prepared and when to take action could mean the difference between damage to your belonging and not. By checking what the Met Office are warning against and what the Environment Agency are announcing as flood risk areas then you should be able to get a good judgement of the severity of damage that could be caused.
If your property is in an area that is prone to flooding then signing up to the Environment Agency Floodline will be beneficial. It is free and if you area is expecting to be flooded; you will be sent a message or email informing you. This information can then be passed on to tenants.
If the area is hit by a flood, make sure your tenants have a plan. These turn on the local radio for updates. It is also a good idea to have a battery operated or wind up radio just in case you lose your power supply. If you think you are in danger, make sure you prepare other things too such as bottled water, non-perishable foods and also consider those around you who may need help; vulnerable neighbours and pets.