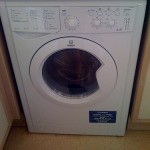 When you decide to become a landlord, you are putting a lot of trust in your tenants to look after the property and the things you supply them with such as a washing machine or dishwasher. Although these white goods aren't easily damaged they do take a lot of maintenance so relying on this to be done is a gamble.
There are some things that can be done to make sure your tenants are looking after your property and its contents in the way that you would expect.
There is obviously a lot of paper work for you and your tenants when they first move in so overloading them with information right away will mean things are forgotten. However, if this is their first rental home you do need to make sure they know how to look after each appliance. You can put together an appliance manual that will show them what to do if they ever need to. In here you could include cleaning instructions.
Be open to phone calls from your tenants asking how things work, in the end this will create a good relationship with your tenants and in the long run it will also help the running of your appliances.
With your property insurance, make sure it includes contents cover too and what is covered. To be certain, you can list what exactly you want to be covered so you don't get caught out in an emergency.
Make sure everything is running the way you want right from the word go. This ensures that everything is being looked after as you would expect and a good relationship is established as everyone knows what is expected.