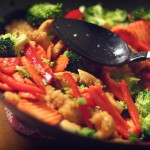 In the two year the fruit and vegetable intake has dropped by 900,000 amongst Britons. This is uncovered as research reveals that the poorer in the country are opting for cheaper and more filling a food which often means meals that have higher fat, sugar and saturate content.
It is believed that the increase in eating unhealthy meals is a way of coping with increasing food prices and the fact that household incomes are decreasing. As a result families with the lowest income are the worst affected and therefore have unhealthy diets.
This means that those that are running a restaurant may still be feeling these effects and therefore paying their restaurant insurance among other things may be a struggle.
The amount of people eating fat saturates and sugar and has rapidly increased sine 2012 even though the amount of food being bought is the same says the Guardian. Households that have an income of less than £25,000 are more inclined to buy foods such as meat balls, instant noodles, tinned pies pizza and friend food.
The research revealed that price was the main motive for the decrease in consumption of fruit. 4.4 per cent of Britons year on year are eating more and more saturated foods. On top of this there was a 25 per cent increase in chilled ready meals being consumed.
This reflects the huge 32 per cent increase on food in the last five year which has stretched those budgets that are already full to capacity. Giselle Cory is a senior research and policy analyst at the Resolution Foundation and they have said, "When food prices go up and household incomes go down, people on low to middle incomes buy less healthy food and more unhealthy food."
While we are out of recession it is clear that many are still feeling the effects of the last few years.