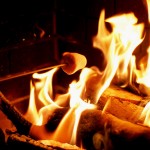 Now winter has well and truly hit us here in the UK it is time to start thinking about the heating within your rental properties. With these systems being switched on all across the country to give us our warm homes in what is now some very dark evenings, this can and does cause some problems for landlords.
For those that are lucky enough, there are tenants who go to hotter climes during the winter months. This can mean that to keep their costs at home down, the heating won't be on at all. If the pipes within the property are old, this could cause freeze-thaw and the potential of cracking is increased. This is much more expensive to fix compared to having the heating on for one hour a day during their holiday. Damage like this could be hard to claim on a landlord insurance policy.
Of course each landlord operates differently. If you happen to be among those who prepay the tenant's bills and pass the charges on, it is definitely a good idea to start looking into their usage. Given the economic climate most of us are wary about how much we are spending on energy bills, these tenants shouldn't be a problem. However, if your tenants aren't so worried about how much they spend on bills then their usage could be extremely high. Keep an eye out on their usage and if it does become excessive then you can always mention this to your tenants. It is after all coming out of your bank account first!