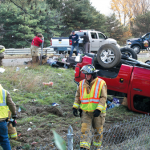 The Beaverton couple luckily escaped injury; however their pickup truck and motorhome were severely damaged in a crash.
The couple were travelling in a motorhome and pulling a full-sized pickup truck, when they lost control of the motorhome and steered off to the west side of the roadway. Volz said it was difficult to find out how or why the driver lost control, although, as it steered of the roadway, the truck and motorhome broke free and rolled into a ditch, landing very close to a fence along North Road. Let's hope they have a good motorhome insurance policy, otherwise they could have bigger problems after that crash!
Mundy Township Fire Department assisted with stabilizers, which propped up the motorhome to allow for the couple to exit. Contents of the truck and motorhome were all over the area and crews worked hard to gather all the items quickly. As traffic came to a standstill on the highway, southbound cars were forced to exit at Thompson road. The fire department rerouted other vehicles through the emergency turn-around just north of the crash site, back onto northbound U.S. 23.