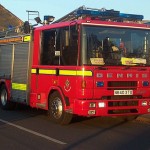 There was a report published recently that showed that one person a month dies from a house fire in a property they shouldn't be living in in the first place. Properties that do have people living in them but that don't have any kind of fire safety precautions are now known as beds in sheds.
According to the report most of these incidents have been people who are squatting in derelict or unoccupied property and are living in them illegally. Sometimes if landlords have large portfolios they may not know that anyone is living in one of their properties illegally. This could be especially true if they are renovating or in the middle of experiencing a void period. Unfortunately the landlord could still be accountable for the person injured if it happens in their property. This means a good landlord insurance policy is essential.
As a landlord it is your job to ensure that the property is safe to live in and if it doesn't fall under the guidelines, you could be letting illegally.
Fires spread quickly and can very easily affect the neighbouring properties. This means extra precaution needs to be taken to ensure you have thought about everyone's safety not just that of the people living in your property. In void periods, your property still needs to be safe.