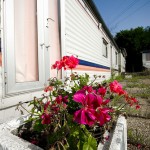 Plans for a static caravan park have been withdrawn after seven years of planning. Park Leisure 2000 applied to Durham County Council for permission to open a new park. They say the new site would have created 43 new jobs for people in the local area. They also said that it would have boosted tourism in the area by £1.7 million a year.
The plans were for the site to be home to 301 static caravans, which would be covered with static caravan insurance, where the Beechburn Quarry used to be between High Grange and Witton Park.
People living in the surrounding villages opposed the plans because they felt that the roads were oo narrow for extra traffic. It was also claimed that some of the proposed caravans would be situated on flood plain.
Park Leisure 200 have issued a statement that says, "It is with great regret that, after seven years of developing the scheme and taking it through the planning system, Park Leisure 2000 Ltd has chosen to withdraw the planning application and concentrate their investment and development programme in other countries around the UK."
There have been no reasons made available as to why the plans were withdrawn but a number of groups opposed the idea including the Environment Agency and Natural England. Also departments within the council opposed the idea to protect the countryside.
Terry Coult is an ecologist and he has said, "A large-scale development of 300 caravans will have impacts from light, noise, dogs etc. in what is now a dark and quiet wetland habitat."