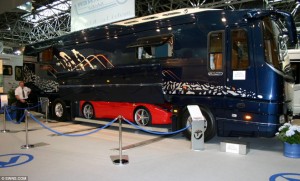 Prices for the bus start at around £750,000 and rise to about £1.2 million, and may well be worth every single penny. A brand-new state-of-the-art motorhome which has been called "the palace on wheels" has been showcased in a special report by The Sun newspaper.
The newly-built Volkner Mobil Performance Bus offers an incredible level of luxury for its owners with each model carefully designed over a period of 12 months.
Already, many orders have been received from wealthy buyers all around the world. No expense has been spared on this 40ft long vehicle, with luxury leather sofas and a full-size real wood kitchen fitted as standard.
Amenities also include a dishwasher, microwave and impressively large fridge-freezer. The luxuries don't end there either, with a widescreen TV on hand alongside Bose-Dolby-home Entertainment Surround Sound also present for on-board entertainment. Bathroom facilities are very impressive, with a standard toilet and power shower provided. We would dread to think how much the Motorhome Insurance would cost. It also features a hidden 'garage' tucked between the front and rear wheels which is designed to accommodate a low-slung sports car such as a Ferrari or Lamborghini!