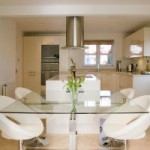 When starting out as a landlord, one of the best property types to buy is probably a studio flat. This is because they are cheap to buy and maintain. This means that once you start letting it out you can quickly build up your portfolio and generate even more income. However, insuring this income is regular for your studio flat is essential.
Trying to make a studio flat look a great place to live can be difficult because it is just one room. This means décor needs to be light and by adding mirrors to the walls this can really help increase the appearance of added space. Also if you are lucky enough to have big windows, instead of opting for heavy curtains, consider blinds. Make sure if you chose to furnish the flat you choose pieces that are of good quality. It is easier to spot cheap furniture in a studio flat and this will put many prospective tenants off.
Tenancies are often short in studio flats because the majority of tenants that will be living here will be on their own. This means having a good landlord insurance policy in place is essential as more tenants means more chance of damage.
Choose advertising that is sensible. Going through a letting agent for a studio flat is not the best option. Those looking to rent a studio flat are probably looking to keep their costs to a minimum and will be thankful that they don't have to go through an agent.
Choosing a studio flat in a good area is also key, location and decoration will really add value to your property.