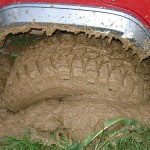 When taking a holiday in your motorhome going off road is probably the last thing you think about doing with it. However, there are many wild campers out there who love taking their beloved motorhomes to new terrains to see what idyllic scenery they can find. Somewhere in everyone there is a little sense of adventure so we have put together a few tips in helping you take on your adventure safely.
Of course the most obvious is making sure you have the right vehicle for going off road. A few things to consider are: ground clearance, you want to make sure you have enough space under your motorhome for large rocks etc. without causing any damage. Next is checking that your motorhome isn't too top heavy. Having a top box for going off road is not advised. If your vehicle is top heavy you might end up rolling it. Four wheel drive is also essential, as well as a lower tyre pressure than you would normally have.
It is inevitable that you are going to come across some tricky terrains so making sure you have full control of your vehicle is a must. Obviously going slow will help you to correct and mistakes or difficulties you fall into. Staying in low gears and avoiding using the foot brake will also help. This means the chance of slipping and sliding is reduced.
Talking about going off road in a motorhome and going off road in a 4×4 are two different things. In a motorhome you need to be careful and make sure your aim is to find a great place to camp, not a sport. It is always a good idea to check you aren't travelling on private land too as this will get you in trouble. There will probably be other campers looking for a great place to camp out in the wild to so make sure you are wary of this.
Another must is making sure that your motorhome insurance is valid whilst travelling off road as more accidents and damage can occur than driving on the road.