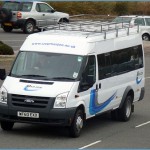 During this economic climate, money saving is essential within business especially for those who have a fleet of minibuses as it is already becoming increasingly more expensive with the cost of fuel rising and having to pay for minibus insurance too.
There are a few things to consider when buying minibuses for your fleet. One of these is whether to buy a diesel or a petrol vehicle.
Diesel has always been the cheaper choice of vehicle since they were made in the 1980's. This was because they used to be more economical compared to petrol. Road tax on diesel vehicles was lower too. However this was over 30 years ago and today there is a huge variety of economical petrol engines and at the moment diesel is much more expensive than petrol.
The reason why diesel is more expensive is because it lasts longer than petrol and therefore in theory it is cheaper. As petrol engines are becoming more economical this does mean that this theory is no longer true and the price of diesel is actually more expensive. As well as this diesel models are usually £1000 – £2000 more expensive.
We all know as soon as you buy a minibus the value has instantly decreased so buying a vehicle that has a good residual value is also a great way of saving some money. As diesel vehicles have lower road tax rates and economic use of fuel, many people want them which means they are keeping their value at a reasonable level. This means the resale value of a diesel minibus is better than that of the same vehicle with a petrol engine.
Even though the diesel minibuses have a good residual value, they are less reliable that the petrol models. This means in the money you save in petrol and possible from reselling, this could be spent on repairs and maintenance. Between the two types of engines, minor repairs, in terms of pricing, aren't hugely different. However serious damage to a diesel engine will cost a lot more.
Make sure when buying new mini buses that you don't just choose the cheapest as a way of saving money, sometimes this can be costly.