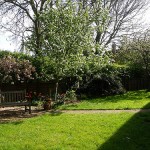 When it comes to signing a new tenancy, it is the little extra's that are appealing to new tenants often securing you at least a year's worth of income. These extras could be having access to a swimming pool, a garden or possibly a gym in communal areas. These are great for enticing new tenants but can be a headache for landlords.
Communal areas often require a service charge. As a landlord though, you are of course, entitled to pass this charge onto your tenants. However, within the current market, many tenants are looking for low rental payments so having to pay for the little extras may mean they won't sign the contract.
One of the disadvantages of communal areas is that they have to be shared and this inevitably is going to cause an argument somewhere down the line. If a dispute does occur, whether it is the fault of your tenants or someone else's, it is best to let them sort it out themselves. Do be prepared though to have to step in if things get a little more than a heated discussion.
The communal areas often don't have security which does make them a prime target for thieves. In this instance your landlord insurance may not cover you as these areas aren't directly managed by the landlord. If you are unsure though, whilst taking out your policy make sure you ask and check.
These added extras are a great way of attracting new tenants especially as everyone wants a little extra for their money in today's climate. Just as they can prove a great opportunity they can also cause a little difficulty. Make sure you know about service charges, be aware of any disputes and don't be vulnerable to thieves.