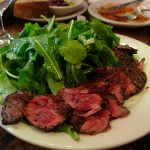 A new restaurant has opened that claims to the UK's first protein restaurant and they are aiming to bring healthier meals to children in schools. The restaurant is called Gyms Kitchen and is in High Road in Leyton.
The restaurant has been set up by Steve Mavrou and business partner Richard Klein and they plan to provide the school meals to those in Waltham Forest. They decided to set up their venture as a result of the amount of takeaway and fried food outlets in the area. They wanted to create a place where people could get low fat, high protein grilled meats and a variety of vegetables to encourage the younger generations to eat healthier.
Setting up a new business is very difficult especially in the current economic climate and even more so to set up a restaurant with strict health and safety regulations. There are many costs to consider such as: wages, rent, restaurant insurance, suppliers and many more.
Steve Mavrou has said, "We really want to continue Jamie Oliver's work of getting kids to eat healthier because there's still more improvement needing to be done. The meals are better but could be much more nutritious.
"We are planning a kids menu which will be great. Also we are very interested in actually providing school meals; I think it's the next step for us."
The pair came up with the idea for the business of an all protein restaurant when they went on holiday to Los Angeles. They have an all protein breakfast over there and they wanted to bring the idea back to England.
They are currently being promoted by the gym Fitness First and have been visited by the captain of Leyton Orient Nathan Clarke. "It's a little overwhelming but it's great fun, I'm pleased with the way it's going. Hopefully we can get the borough eating healthier bit by bit," said Mr Mavrou.
The manager at Leyton Orient, Russell Slade has said, "It was great to visit with Nathan for the launch and sample their food, which was first class.
"Their vision of bringing accessible and tasty healthy food to the local high street is one which should be supported, especially in the aftermath of the Olympic Games, which has done so much to draw people to sport."