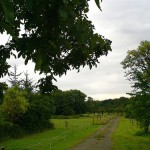 When we think of motorhome holidays we think of the wide open spaces, the freedom to drive just about anywhere and as a result most of us head towards the country to get away from the hustle and bustle of everyday life in the city. However, as a result of this new found freedom during out holidays it is easy to forget that even the country roads can be labelled as A and B roads even though they may be little more than a dirt track. These are very difficult to take a motorhome down, especially when you are expecting a typical A road. We have put together some safety tips for you to remember while travelling through the country.
So we have all seen the "Go Slow" signs however, how many of us actually pay attention? Most of the time we assume we always know what is best and ignore the signs that tell us to reduce our speed. However, these signs are obviously there for a reason and even more so in the country when roads are often very uneven and there can be poor visibility. When travelling in a motorhome in the county it is always best to stick to 30 mph even if the speed limit is more. Most country lanes do carry the national speed limit but if you are travelling at these top speeds and you do need to claim on your motorhome insurance, your providers are less likely to cover you if you are travelling at the faster end of the limit.
There are some concerns when it comes to using your horn in any vehicle let alone a motorhome. Some use it to show their anger, others use it to encourage others to move on at lights, and some use it when taking on tight corners to let others close know of their presence. Of the three, we all know which one the horn is intended for however even this can be a little dangerous, especially on country roads. This is because if there is livestock around, the sound of the horn will scare the animals and if they aren't fenced in they could run into the road and cause more of an accident.
These are all obvious things we know but in the excitement of going on holiday they can easily be forgotten and driving a motorhome is not an everyday occurrence so getting used to the motorhome each year takes a little getting used to.