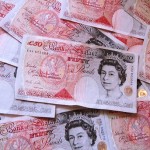 Every week, those of us who do the lottery dream of all the things we would do with our winnings. Although I expect very few of us think that the first thing we will do with the money is buy a pizza and take a holiday in a static caravan.
The Euromillions lottery winners Adrian and Gill Baysford did just this. They could have chartered their own private jet to just about anywhere in the world but as this down to earth couple show, money doesn't beat family. Instead they took a flight to Scotland to visit Gills parents who live in a caravan park in Carnoustie.
Her parents own a static caravan and have lived there for four months, We are sure that unless they are unhappy living here, this probably won't change.
The Baysford's seem to be a very down to earth couple with their only dreams of spending the money are on a Audi Q7, a trip to Disney land and travelling through the Canadian Rockies by train.
Considering that they will be earning £8,000 a day in interest this is just a tiny stone in the giant ocean of experiences they will no longer have to save for. We're sure that the money will definitely help with their costs like tax, bills, static caravan insurance, car insurance for their new car, fuel, food and other things that some of us can struggle with.
Even though the couple are now the 516th richest people in the country it is nice to hear that they are still going to enjoy the simpler things in life and help out those around them and the ones that need it most.