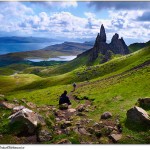 Have you been away yet this summer? Or are you still deciding where to take your motorhome for an adventure? If this is the case why not try Scotland. Yes there is a strong chance of rain, but unfortunately this is the case everywhere in the UK this summer. Even though Scotland does have rain, it also has stunning views and great places to explore.
We have found two great campsites that are guaranteed fun and perfect holiday destinations even in the British weather.
Cashel
Cashel campsite is right on the banks of Loch Lomond which is the fantastic place to view the scenery of western Scotland.
Being on Loch, of course means there are a range of water sports. There are fishing facilities, canoeing, boating and obviously walking and cycling trails so whatever you fancy doing, there is sure to be an activity to suit you.
Surrounding the Cashel campsite is the Queen Elizabeth Forest Park and Ben Lomond. This is a Munro (a mountain higher than 3000ft) just four miles from the site. As mentioned there are many walking and cycling paths including the West Highland Way which goes rights past the entrance of the site.
On site there is a cafe and a shop and there are also many shower and toilet blocks. Dogs may be taken to this site which means fun for all the family. There are also electric hook up pitches available.
Cobleland
This campsite is on the River Forth and surrounded by oak trees. If it is raining, this will definitely provide some protection and of course, they are breathtaking to look at.
As the site is buried beneath gorgeous trees, there is a lot of wildlife in the area, great for nature lovers. Red squirrels are the most common and with wildlife all around it is a great place to really get back to nature.
Although there are no water sports that take place on the river. There are three lochs just around the corner: Achray, Drunkie and Venacher. These all offer boating, canoeing and fishing. If you fancy leaving the area then David Marshall Lodge is the place to go. Here you can watch live footage of the local Ospreys and it isn't too far away.
Planning ahead is vital on any holiday and this means making sure you have sufficient breakdown cover and a motorhome insurance policy that covers all your needs. Having peace of mind while you are holiday means you can relax a little more in knowing that if something does go wrong, someone else will fix the problem for you.
Let us know if you are off to Scotland this summer, or if you have already been. We would love to hear your stories from the mountains. Either comment below or message us on Facebook or Twitter.