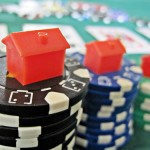 There has been a new lending scheme unveiled called the Funding for Lending scheme. There is going to be £80 billion available for banks to borrow at low interest rates as long as they agree to pass these low interest rates onto customers. This is in a hope to get the UK economy back on track.
The money will be given to banks so they can offer cheap loans to businesses. This means if they are saving money on loans means there is more money to offer employment opportunities and get the economy moving again. There is strong link between employment, or unemployment and the property market. By taking on extra staff this means that the employees will be looking to spend their money back into the economy and will also be able to afford to buy properties.
This will increase demand pushing prices up which will be good news for sellers and this will then encourage the sellers to upgrade to a bigger property meaning more supply for the lower end of the property ladder. This is good news for first or second time buyers.
An increase in demand and supply will be a huge advantage to the housing market as many are stuck in rental properties. This is causing stagnation in the market overall as there isn't much movement. With more homes available lower down the ladder this means first time buyers will be more encouraged to move out of parent's homes and with cheaper mortgage deals this will also help the stagnation that the market is experiencing.
The financial burden that can come with owning a home will means many are struggling to pay for everyday essentials and are forced to choose between eating and filling up the car with fuel. With cheaper mortgage rates this means the financial stress in households will be lifted, especially with extras to pay such as home insurance.
Some experts are warning that even with this financial boost available to the banks many just won't want to lend no matter the interest rate they will pay. Many fear that this is especially the case in the face of a "Eurozone storm."
The Shadow Treasury Minister, Chris Leslie, has said, "Despite promises from ministers, net lending to businesses has fallen in every month of this Government. And there are serious questions about whether the new Funding for Lending scheme will really see lending to businesses become cheaper and easier to access.