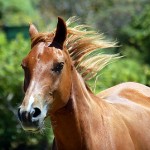 Many horse dealers are making a last attempt to save the tradition of buying and selling horses at Auld Lammas Fair in Ballycastle.
This tradition is over 400 years old and early on in the year Moyle Council to a vote to ban the horse selling on the streets because of safety concerns for the public. There were also animal welfare issues raised by campaigners which also aided the vote.
Those who are buying horses like to see the one they are interested in run on roads rather than in a field. Once they have made their purchase the horse is then loaded into a horsebox, which of course needs horsebox insurance, and is then taken to its new home.
The Council, for the moment, have agreed for the horse people to look at another venue for the event this year. They are looking at Ramoan Road in Ballycastle. There will be another meeting held at the beginning of August to discuss the new venue before the event begins at the end of August.
Vincent Traynor who is from the North Antrim Riding Club has said, "We are hopeful that horse trading will continue this year as it has done for the last 400 years. It is a big part of the Fair and many people come to the Fair especially to see the horses. We want to get a field owned by the Council at Ramoan Road and also use a section of the road outside to run horses."
Seamus Blaney is Councillor at Ballycastle and he has said, "People love the colour and tradition associated with the horse dealing and it would be a shame if it came to an end this year. I am fighting hard to ensure that horse dealing continues at the Lammas Fair."
However, Councillor Donal Cunningham has said, "Attempts to relocate horse trading at the Lammas Fair to the Council owned facility at Ramoan Road playing fields need to be properly thought out, and the concerns of residents and occupants of adjoining properties must be taken into account.
"The Ramoan Road playing fields are surrounded by housing on three sides which makes it entirely unsuitable for this event."