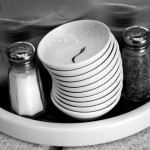 We have all seen the calorie counter on the bottom of every packet we buy but for many of us that is the only section on the label we pay attention to. However, there is other information on these labels that could be life saving but often we don't pay attention because we don't know what we are looking at.
A recent study has estimated that the average amount of salt people in the UK eat a day is 8.6 grams when the recommended amount is just 6 grams. This is 43 per cent more than the suggested maximum.
The result of this extra salt can lead to stomach cancer as the salt irritates the stomach's lining which leaves it open to infection from the bacteria that can cause the stomach cancer.
To make people more aware of what the labels say on the bottom of packets experts are proposing a traffic light system on processed foods so it is easier for the public to understand how much salt they are consuming each day as well as sugar and fat.
It is believed that one in seven stomach cancer cases could have been prevented by having less salt in the diet.
Kate Mendoza is the head of information at the charity, World Cancer Research Fund, and she has said, "Stomach cancer is difficult to treat successfully because most cases are not caught until the disease is well-established.
"This places greater emphasis on making lifestyle choices to prevent the disease occurring in the first place – such as cutting down on salt intake and eating more fruit and vegetables."
With this new research this may make restaurant owners more aware of the types of food they are serving. Most people are now more conscious of what they are eating as the effects of eating unhealthily are becoming more and more broadcast. By having healthier menu's in restaurants this could increase trade as society is becoming more and more health conscious. With this extra trade it will become easier for restaurant owners to hire more staff, pay suppliers, have a good restaurant insurance policy and in the economic climate none of these things are easy at the moment. Restaurant owners may also feel they have a moral obligation to provide the public with healthy meals.