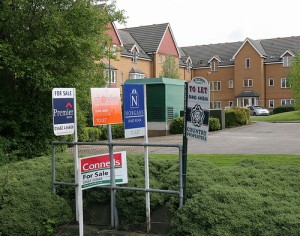 A high proportion of homeowners are considering changing their mortgage in some way due to the current state of the economy, according to a new report released by Clydesdale Bank. The report has revealed that nearly one in ten people are considering one of the following changes: remortgaging, paying off the mortgage or making over payments within the next 12 months.
The figures showed that the homeowners that are most likely to reconsider their finances are those that live in the Midlands where 17 per cent have been revealed compared to the 6 per cent in the North East. The figures below have come from the report and indicate what percentage of people in each region are contemplating remortgaging, over paying or paying off their mortgage in the next year:
Midlands 17%
Yorkshire 16%
South West 15%
South East 15%
Scotland 15%
London 12%
North West 10%
East 7%
North East 6%
From the study it is clear to see that over half of the property owners have said that they don't plan to move in the near future and 25 per cent of these have said there is little that can change their mind. The report shows that 30 per cent of the people asked said the only reason they would even think about moving at the moment would be if the issue was work related or if they needed a bigger home for family reasons. From these figures it appears that most are happy in their current homes but 24 per cent have plans in the pipeline for renovations to their properties.
When considering renovations it is essential to compare different insurance policies, especially if you are carrying the work out on your own without professional help. This is because if there are any accidents it is always nice to know there is some support in helping you get back on track and no additional costs need to be paid out.
"People often only think about changing mortgage when they move but even those that are very settled in their current home can remortgage to ensure they have the best mortgage for their needs," says Steve Reid, the retail director at Clydesdale Bank.
Quick Move Now has been investigating cash buyers against mortgage buyers and they have discovered that there has been little difference since 2010.
"Contrary to popular belief that the majority of sales are taking place to a cash buyer in today's market, our figures show that the proportion of cash buyers has not significantly increased since 2010 in relation to mortgaged buyers," said Donna Hougez, the market analyst at Quick Move Now.